4. Price Skimming
Learn API For Product Managers
---
4. Price Skimming
Hitesh Raj Bhagat in Economic Times brilliantly explains the skimming price strategy employed by mobile phone manufacturers in India.
Mobile manufacturers often leak their new mobile prices into the market & introduce the mobiles at an artificially inflated price to those who desire and want exclusivity.
Once this layer of customers is skimmed and sales start dipping; the companies correct the sticker price.
Skimming is launching the product at a higher cost and when the product life cycle matures; you lower the cost gradually.
4.1 When does price skimming work well?
When your product has a high upfront cost
When your product enters an unsaturated market
When your brand has already built trust & turned premium and you are launching a new offering
Skimming pricing makes sense in all these scenarios as we never know what's the right price of my product/offering. It's always better to start on a higher note. In India, slashing the price is easier. Increasing the price isn't.
4.2 Pitfalls of skimming
It doesn't work at all when you are entering a saturated market
In microeconomics, it is said that a saturated market has an elastic demand curve i.e. a small change in price has a large effect on buying.
When a product enters a saturated market; it is advisable to not go for skimming pricing (unless your product is 10x better than alternatives) as customers would go in all directions to betray you.
Skimming slows down mass adoption and attracts competitors
Netflix entered India's nascent OTT space in 2016 with premium pricing.
Netflix India launch price (Source : NDTV)
It attained a huge success in a short span but its success on high ticket price intrigued a plethora of OTT players in India - Voot (2020), Zee 5 (2018), MX Player (2019), Aree (2016) etc.
Viable substitutes ensured that the demand curve became elastic.
Getting rejected in technical interview round?
---
Skimming also slowed down the mass adoption of Netflix in India and gave OTT players like Sony LIV, Zee 5, Voot time to improve their product and match their production quality and storyline to Netflix.
                

OTT

 market share by app downloads
Eventually, Netflix had to shed a skimming-only pricing approach and launched their mobile-only plan at ₹ 199.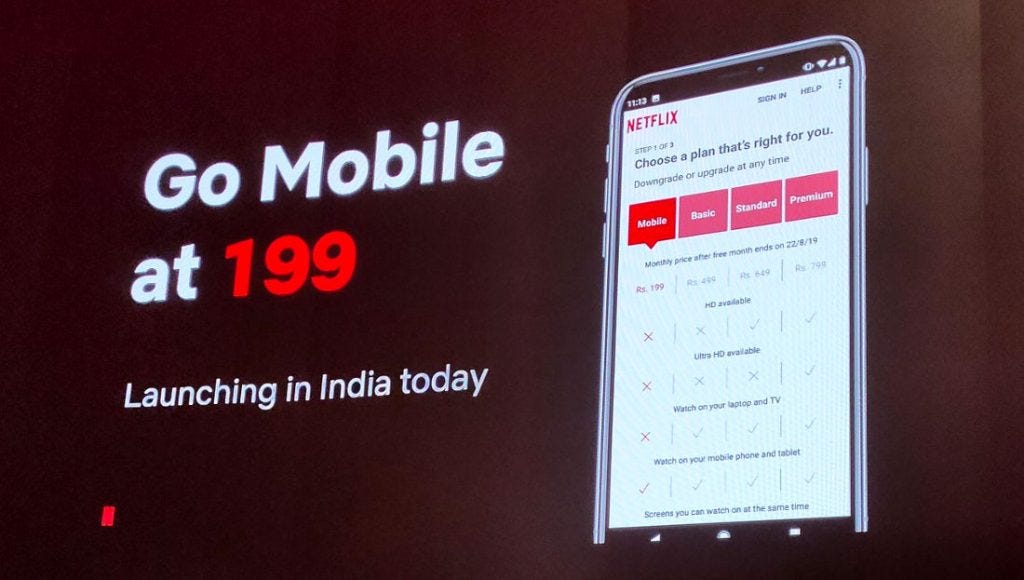 ---